Old Fashioned Snickerdoodles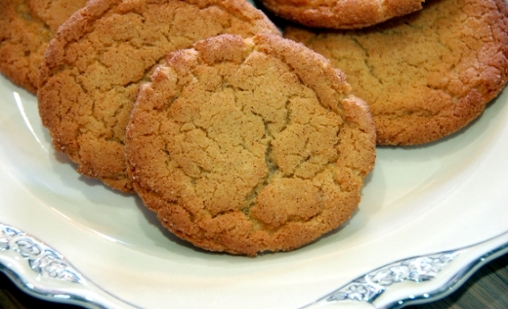 I'm a recovering picky eater who survived many years on a lean diet of Coke and plain bagels. As a kid, I liked baking brownies and refrigerator cookies. Snickerdoodles never popped up on my radar until I had the bakery. Snickerdoodles are not spelled c-h-o-c-o-l-a-t-e so why bother? By request, we made some at the bakery. Maybe because they were pareve, maybe because they weren't chocolate, I wasn't impressed. I even made them with sprinkles instead of cinnamon sugar. Shoving the recipe to the back of the binder, I'm content to make other cookies.
Then, it comes, the request for snickerdoodles. I'm not going back to the old recipe; I don't like it. I'd recently pulled a cookbook off one of my many bookshelves which I don't ever remember buying. Maybe I didn't buy it. Maybe I borrowed it from my mother and didn't return it. At any rate, making Mexican Wedding cookies from "The International Cookie Cookbook" by Nancy Baggett with photographs by Dennis M. Gottlieb convinces me that Nancy knows her cookies. It is a beautiful book, circa 1988 with elegant photos and interesting introductions. The inside cover says it was scored, secondhand, for $4.99. I tell you this so you can get on Amazon and find a copy somewhere in the world. It is that good.
Snickerdoodles are easy drop cookies and perfect for kids to make. "Light and crisp-chewy" I love the way they melt in your mouth. No, all cookies are not created equally. And, yes, it is worth passionately raving about simple perfection.
Kosher Status:
Dairy
Number of servings:
36 cookies
Main Ingredient(s):
Preparation Time:
00:20
Cooking Time:
00:00
Skill Level:
1 - Easy

(1 Easy - 5 Hard)

Estimated POINT value:


Ingredients:


Dough:
3 1/2 cups all purpose or unbleached white flour

1 tablespoon baking powder

2 teaspoons baking soda

1/4 teaspoon salt

1/4 teaspoon cinnamon

1 cup unsalted butter

2 cups granulated sugar

2 large eggs

1 tablespoon light corn syrup

2 1/2 teaspoon vanilla extract
Decoration:
1/4 cup sugar

1 teaspoon cinnamon


Steps:


Preheat the oven to 375'.

Spray cookies sheets with non-stick vegetable oil and set aside.

Combine the dry ingredients for the dough. Give it a good stir to mix well.
In a large mixing bowl, combine the butter and sugar and beat with an electric mixer until light and smooth. Add the eggs and corn syrup and continue to blend until thoroughly blended and smooth.

Beat in the vanilla extract.

Gradually beat in about half of the dry ingredients. As the dough stiffens, stir in remaining dry ingredients using a large wooden spoon.
On a plate, combine the sugar and cinnamon for the topping.

I use a portion scoop, size 50, and drop 6 walnut sized balls into the cinnamon sugar. Roll them around in the sugar mixture and place onto a cookie sheet. Repeat to use up the dough.

Take a flat bottomed cup and flatten the ball to about 1/4" and 2 1/2" around.

Place the cookie sheet on a rack on the upper third of the oven. Bake for 8 - 10 minutes, or until light gold brown around the edges. Rotate your tray during baking for even browning. What the cookies look like is more important than the suggested baking time. They will puff in the oven and flatten as they cool with a cracked surface. Focus on getting the golden brown edge and the cookie will cool with the perfect texture.

If you need to use the same cookie sheets, remove the cookies after a few minutes to a cooling rack. Let the cookie sheets cool before using them again.


Recently viewed recipes:



Old Fashioned Snickerdoodles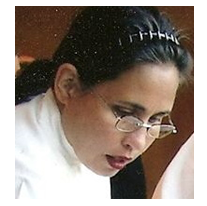 About Leah
Hi! Thank you for stopping by to watch me, Leah, cook kosher. I've been the owner operator of my boutique catering firm in Seattle, Leah's Catering, for the past 14 years.
Read more...
Leah's Blog

Aviva Makes Aliyah and The Sandwich Generation

Happy Chinese New Year! Happy Super Bowl! Go Hawks!

Tradition! Fun with the Seattle International Film Festival

Where Have I Been in My Life???

Making Kosher Salads

Blog Categories
Leah's Kosher Pantry

View what is in the pantry
Recipes

Appetizers
(44)

Appetizers - Dips and Sauces
(11)

Appetizers - Starter Courses
(10)

Beverages - Cold
(1)

Breads - Yeast
(10)

Breakfast Pastries
(7)

Dessert - Frostings
(6)

Desserts - Cakes
(13)

Desserts - Cookies and Brownies
(29)

Desserts - Dairy
(42)

Desserts - Pareve
(71)

Desserts - Pies and Tarts
(14)

Desserts - Tea Breads, Quick Breads
(8)

Desserts and Baked Goods - Gluten Free
(18)

Main Dish - Beef
(7)

Main Dish - Dairy
(3)

Main Dish - Eggs and Fritattas
(6)

Main Dish - Fish
(11)

Main Dish - Poultry
(14)

Main Dish - Vegetarian and Vegan
(9)

Salads - Dressing
(8)

Salads - Fruit
(4)

Salads - Grains & Legumes
(7)

Salads - Green
(1)

Salads - Pasta and Rice
(10)

Salads - Potatoes and Eggs
(5)

Salads - Vegetable
(15)

Side Dishes - Kugels and Souffles
(7)

Side Dishes - Potatoes and Vegetables
(17)

Side Dishes - Rice, Grains and Pasta
(7)

Soups, Stews and Cholent
(9)
Special Considerations

Dairy-Free Recipes
(230)

Gluten-Free Recipes
(134)

High Fiber Recipes
(18)

Low-fat Recipes
(11)

Nut-Free Desserts Recipes
(48)

Vegan Recipes
(101)

Vegetarian Recipes
(207)
Holidays

Rosh Hashana Recipes
(23)

Yom Kippur Recipes
(3)

Sukkot Recipes
(26)

Simchat Torah Recipes
(9)

Chanukah Recipes
(20)

Tu B'shevat Recipes
(16)

Purim Recipes
(9)

Passover Recipes
(44)

Lag Ba'omer Recipes
(6)

Shavuot Recipes
(24)

Shabbat Recipes
(34)
Cookbook Library

New Releases

Jewish Classics

Other Favorites
Kitchen Gadgets

Essentials

Small Appliances
Chef Of The Week

Barbara Williamson
Congratulations to our chef of the week.