Roasted New Potato and Yam Salad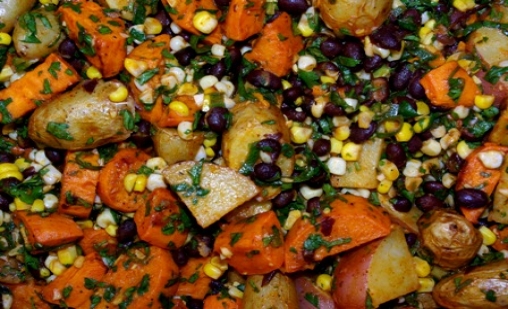 Sitting at a friend's house discussing the upcoming release of the Washington State Jewish Historical Society's cookbook, she pulls a salad from the refrigerator to show me. She doesn't have a recipe as she bought it at a local gourmet shop. I look at it and decide it will be on the menu for my sister's birthday party. I like the idea of a potato salad that is mixed with yams, corn and black beans. Moving away from the expected lime juice dressing, I use a variation of the dressing I use on the Moroccan Carrot salad. I add a little jalapeno pepper and smoked paprika along with the cilantro.
I'm not sure how the potatoes and yams are prepared in the salad I saw. I decide to oven roast the Yukon Golds, yams and corn on the cob all at once on a sheet pan. All the veggies finish cooking at the same time. While they are in the oven, I make the dressing and prep the other veggies. Very simple and very tasty....yum!
Kosher Status:
Parve
Number of servings:
10 - 12
Main Ingredient(s):
Yams, Potatoes - Yukon Gold
Preparation Time:
00:20
Cooking Time:
00:30
Skill Level:
1 - Easy

(1 Easy - 5 Hard)

Estimated POINT value:
Average Rating:
5/5


Ingredients:


4 cups large peeled and chunked yams (about 1 1/2 pounds)

4 cups chunked new potatoes (about 1 1/2 pounds)

2 ears of corn on the cob

1/4 cup olive oil

salt and pepper

1 15 oz can black beans, rinsed and drained well

1/2 cup chopped cilantro

1/4 cup finely chopped parsley

1/2 cup bias cut green onions

1 jalapeno pepper, seeded and finely diced

1 tablespoon minced garlic

2 teaspoons smoked paprika

1 tablespoon ground cumin

1 teaspoon San-J Hot and Spicy Sauce

3/4 cup fresh lemon juice


Steps:


| | |
| --- | --- |
| | Wash potatoes and cut into chunks. Peel the yams and cut into similar sized chunks. Spray a 13" x 9" pan or jelly roll pan. Put the potatoes and yams onto the pan and drizzle with olive oil. Add the corn on the cob and rub with the oil. Sprinkle all with salt and pepper. Place into a hot, 425' oven and bake until just tender. About 10 minutes into baking, loosen the potatoes and yams so they don't stick. Continue to bake another 10 - 15 minutes until just tender. |
| | |
| --- | --- |
| | When baked, remove from the oven and set aside to cool. Meanwhile, make the dressing. |
| | |
| --- | --- |
| | To make dressing, combine the olive oil, lemon juice, smoked paprika, garlic, salt and pepper to taste. |
| | |
| --- | --- |
| | Place the potatoes and yams into a large bowl. Cut the corn from the cob and add to the potatoes and yams. Rinse the black beans and drain well. Add to mixture. Add remaining ingredients and dressing. Toss. Adjust seasonings if necessary. |


Recently viewed recipes:



Roasted New Potato and Yam Salad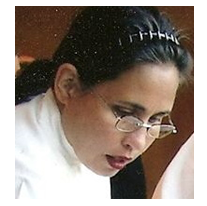 About Leah
Hi! Thank you for stopping by to watch me, Leah, cook kosher. I've been the owner operator of my boutique catering firm in Seattle, Leah's Catering, for the past 14 years.
Read more...
Leah's Blog

Aviva Makes Aliyah and The Sandwich Generation

Happy Chinese New Year! Happy Super Bowl! Go Hawks!

Tradition! Fun with the Seattle International Film Festival

Where Have I Been in My Life???

Making Kosher Salads

Blog Categories
Leah's Kosher Pantry

View what is in the pantry
Recipes

Appetizers
(44)

Appetizers - Dips and Sauces
(11)

Appetizers - Starter Courses
(10)

Beverages - Cold
(1)

Breads - Yeast
(10)

Breakfast Pastries
(7)

Dessert - Frostings
(6)

Desserts - Cakes
(13)

Desserts - Cookies and Brownies
(29)

Desserts - Dairy
(42)

Desserts - Pareve
(71)

Desserts - Pies and Tarts
(14)

Desserts - Tea Breads, Quick Breads
(8)

Desserts and Baked Goods - Gluten Free
(18)

Main Dish - Beef
(7)

Main Dish - Dairy
(3)

Main Dish - Eggs and Fritattas
(6)

Main Dish - Fish
(11)

Main Dish - Poultry
(14)

Main Dish - Vegetarian and Vegan
(9)

Salads - Dressing
(8)

Salads - Fruit
(4)

Salads - Grains & Legumes
(7)

Salads - Green
(1)

Salads - Pasta and Rice
(10)

Salads - Potatoes and Eggs
(5)

Salads - Vegetable
(15)

Side Dishes - Kugels and Souffles
(7)

Side Dishes - Potatoes and Vegetables
(17)

Side Dishes - Rice, Grains and Pasta
(7)

Soups, Stews and Cholent
(9)
Special Considerations

Dairy-Free Recipes
(230)

Gluten-Free Recipes
(134)

High Fiber Recipes
(18)

Low-fat Recipes
(11)

Nut-Free Desserts Recipes
(48)

Vegan Recipes
(101)

Vegetarian Recipes
(207)
Holidays

Rosh Hashana Recipes
(23)

Yom Kippur Recipes
(3)

Sukkot Recipes
(26)

Simchat Torah Recipes
(9)

Chanukah Recipes
(20)

Tu B'shevat Recipes
(16)

Purim Recipes
(9)

Passover Recipes
(44)

Lag Ba'omer Recipes
(6)

Shavuot Recipes
(24)

Shabbat Recipes
(34)
Cookbook Library

New Releases

Jewish Classics

Other Favorites
Kitchen Gadgets

Essentials

Small Appliances
Chef Of The Week

Barbara Williamson
Congratulations to our chef of the week.