Mini Lamb Sliders with Mint Sauce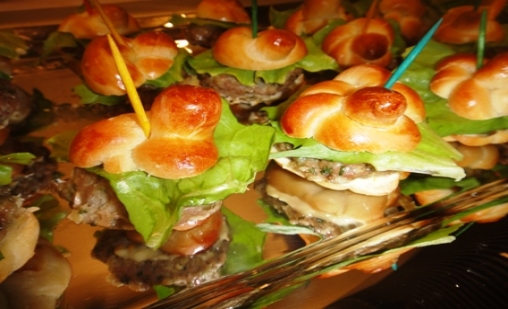 I first made these Mini Lamb Sliders for Hillelfest, Hillel UW's annual fundraiser. Wanting to do something with lamb, ground lamb appears my only affordable option for a crowd. Making them again the other night, I see that they are definitely a keeper on the menu. I make the tiny challah rolls with the Classic Challah Recipe, cutting a 1 1/4 pound ball into 6ths and then again into 5ths before forming the ropes to tie the rolls. Lots of work but I like the results.
I like to make a mint sauce to dress the sliders. The sauce has been made differently every time we've made these. The easiest is a little mayonnaise, fresh orange zest and some bottled mint sauce. Easy. Orange marmalade is also a tasty addition. Love it!
My guess is that these would be even more fabulous as full sized lamb burgers, grilled over charcoal. Definitely have my sights on summer for that party!
Kosher Status:
Meat
Number of servings:
48 mini sliders
Main Ingredient(s):
Lamb
Preparation Time:
00:30
Cooking Time:
00:10
Skill Level:
1 - Easy

(1 Easy - 5 Hard)

Estimated POINT value:


Ingredients:


Lamb Patties:
2 pounds ground lamb

1/2 cup finely chopped onion

3 eggs

1/2 cup panko crumbs (or bread crumbs)

1 1/2 tablespoons dried oregano

1 1/2 tablespoons pureed garlic

1/3 cup finely chopped fresh parsley

1 teaspoon salt

1/2 teaspoon black pepper


Steps:




Recently viewed recipes:



Mini Lamb Sliders with Mint Sauce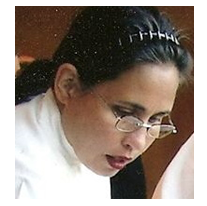 About Leah
Hi! Thank you for stopping by to watch me, Leah, cook kosher. I've been the owner operator of my boutique catering firm in Seattle, Leah's Catering, for the past 14 years.
Read more...
Leah's Blog

Aviva Makes Aliyah and The Sandwich Generation

Happy Chinese New Year! Happy Super Bowl! Go Hawks!

Tradition! Fun with the Seattle International Film Festival

Where Have I Been in My Life???

Making Kosher Salads

Blog Categories
Leah's Kosher Pantry

View what is in the pantry
Recipes

Appetizers
(44)

Appetizers - Dips and Sauces
(11)

Appetizers - Starter Courses
(10)

Beverages - Cold
(1)

Breads - Yeast
(10)

Breakfast Pastries
(7)

Dessert - Frostings
(6)

Desserts - Cakes
(13)

Desserts - Cookies and Brownies
(29)

Desserts - Dairy
(42)

Desserts - Pareve
(71)

Desserts - Pies and Tarts
(14)

Desserts - Tea Breads, Quick Breads
(8)

Desserts and Baked Goods - Gluten Free
(18)

Main Dish - Beef
(7)

Main Dish - Dairy
(3)

Main Dish - Eggs and Fritattas
(6)

Main Dish - Fish
(11)

Main Dish - Poultry
(14)

Main Dish - Vegetarian and Vegan
(9)

Salads - Dressing
(8)

Salads - Fruit
(4)

Salads - Grains & Legumes
(7)

Salads - Green
(1)

Salads - Pasta and Rice
(10)

Salads - Potatoes and Eggs
(5)

Salads - Vegetable
(15)

Side Dishes - Kugels and Souffles
(7)

Side Dishes - Potatoes and Vegetables
(17)

Side Dishes - Rice, Grains and Pasta
(7)

Soups, Stews and Cholent
(9)
Special Considerations

Dairy-Free Recipes
(230)

Gluten-Free Recipes
(134)

High Fiber Recipes
(18)

Low-fat Recipes
(11)

Nut-Free Desserts Recipes
(48)

Vegan Recipes
(101)

Vegetarian Recipes
(207)
Holidays

Rosh Hashana Recipes
(23)

Yom Kippur Recipes
(3)

Sukkot Recipes
(26)

Simchat Torah Recipes
(9)

Chanukah Recipes
(20)

Tu B'shevat Recipes
(16)

Purim Recipes
(9)

Passover Recipes
(44)

Lag Ba'omer Recipes
(6)

Shavuot Recipes
(24)

Shabbat Recipes
(34)
Cookbook Library

New Releases

Jewish Classics

Other Favorites
Kitchen Gadgets

Essentials

Small Appliances
Chef Of The Week

Barbara Williamson
Congratulations to our chef of the week.