Ultra Fabulous Batter-Fried Chicken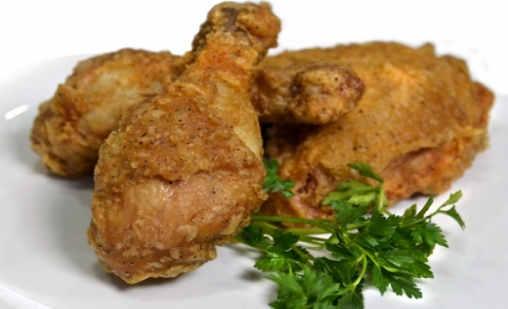 It's the end of the secular year and, in addition to closing out my books, I'm looking at my many photos of food not yet uploaded to this website. Too many fried latkes and doughnuts later, I'm looking for Chanukah appropriate recipes to post that don't require me cooking (and eating!) any more evidence of the miracle of oil. This fried chicken is fabulous. And, the author promises that it can be refrigerated and reheated with excellent results. Don't we all love that; no last minute erev Shabbat crunch.
I don't fry chicken as a rule because I don't want to eat it very often. Let me rephrase; I love fried chicken but don't want to wear it around my waist forever. The young kids at Hillel UW are a great excuse to make it, especially when the Shabbat theme is all-American. Like many foods I don't make often (or, have never made ever), by the time I'm done I will have made plenty. In this case, fried chicken for 120, gives me an opportunity to refine the craft.
Lacking confidence, I happily find "Bringing Back Batter-Fried Chicken" in the "Fall 2011 Entertaining" magazine from "Cook's Illustrated". I'd recently seen on "The Food Network" an entire segment devoted to fried chicken. To brine or not to brine is a huge consideration. Reading this recipe (font 8 I believe), they brine. However, they soak the chicken in sugar and salt water. I'm thinking that kosher chicken is already salted enough. We soak in sugar water.
Rabbi Aryeh mixes up a huge quantity of batter while I cut and clean the chicken. I generally use whole body fryers, reserving the less desirable parts for chicken soup. Our all-American Shabbat begins with chicken noodle soup. We get the soup simmering while the chicken brines.
I opt for deep-frying as I have a 5 gallon container of special fry oil and a giant heavy pot. Sticking this on the ginormous gas burner, I bring the oil to the requisite 300 - 325 degrees. I recommend having what I lacked: a deep-frying thermometer. Guessing is looking at a very dark piece of raw chicken and muttering "guess that is too hot!" Frying this much chicken using one pot is a few hours commitment. I have plenty of time to have a pity party and wonder how my life came to this point; I smell like a fried chicken scented Renuzit.
Ah, but the entire building is beginning to smell like fried chicken and chicken soup. Challah is baked, apple pies are prepped....kids wander into the kitchen to find out if we're making Shabbos. And that makes it all worth the effort.
Erez, my other mashgiach, comes into the kitchen the other day saying that I haven't posted this recipe. This is for you, Erez! Thanks for all your feedback on Shabbat dinners at Hillel UW.
Kosher Status:
Meat
Number of servings:
1 chicken, 4 - 6 servings
Main Ingredient(s):
Chicken
Preparation Time:
00:30
Cooking Time:
00:30
Skill Level:
2

(1 Easy - 5 Hard)

Estimated POINT value:


Ingredients:


Brine:
1/4 cup sugar

1 quart cold water

1 large chicken, around 4 pounds, cut into pieces. Cut the leg from the thigh, cut the breast halves in half again
Batter:
1 3/4 cup cold water

1 cup flour

1 cup cornstarch

5 teaspoons black pepper

1 teaspoon paprika

2 teaspoons baking powder

1 teaspoon salt

1/2 teaspoon cayenne pepper

3 quarts vegetable oil (fry oil is best, something that holds the temperature without browning too much)


Steps:


Cut and trim the chicken, rinse well and set aside in large bowl.

Make the brine by combining the water and sugar. Pour over the chicken. Adjust the chicken pieces so the brine runs between all the pieces. Refrigerate for at least 1 hour.
| | |
| --- | --- |
| | Make the batter by combining all the ingredients except the fry oil. Refrigerate until the brining is done and you're ready to fry the chicken. |
Heat the oil in a heavy, large pot. The temperature should be no hotter than 350', no less than 325'. To deep fry, the oil must be deep enough to cover the chicken pieces. If you don't have enough oil, you can also turn the pieces as it fries until the chicken is cooked.

Remove the chicken from the fridge and drain off the brine. Pat dry with paper towels.

Whisk the batter again (it will have separated a bit). Put 1/2 the chicken into the batter. One piece at a time, shake off excess batter and put into the hot oil. Fry, maintaining a temperature between 300' and 325' until golden brown. White meat should read 165' and dark meat up to 175'. An insta-read thermometer is great for this. At this temperature, it should take 12 - 15 minutes to fry the chicken. Remove from the oil and drain on paper towels. Repeat until all the chicken is fried. Serve.

Chicken reheats great in a very hot, 450', until crisp and heated through.


Recently viewed recipes:



Ultra Fabulous Batter-Fried Chicken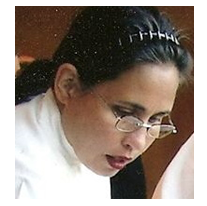 About Leah
Hi! Thank you for stopping by to watch me, Leah, cook kosher. I've been the owner operator of my boutique catering firm in Seattle, Leah's Catering, for the past 14 years.
Read more...
Leah's Blog

Aviva Makes Aliyah and The Sandwich Generation

Happy Chinese New Year! Happy Super Bowl! Go Hawks!

Tradition! Fun with the Seattle International Film Festival

Where Have I Been in My Life???

Making Kosher Salads

Blog Categories
Leah's Kosher Pantry

View what is in the pantry
Recipes

Appetizers
(44)

Appetizers - Dips and Sauces
(11)

Appetizers - Starter Courses
(10)

Beverages - Cold
(1)

Breads - Yeast
(10)

Breakfast Pastries
(7)

Dessert - Frostings
(6)

Desserts - Cakes
(13)

Desserts - Cookies and Brownies
(29)

Desserts - Dairy
(42)

Desserts - Pareve
(71)

Desserts - Pies and Tarts
(14)

Desserts - Tea Breads, Quick Breads
(8)

Desserts and Baked Goods - Gluten Free
(18)

Main Dish - Beef
(7)

Main Dish - Dairy
(3)

Main Dish - Eggs and Fritattas
(6)

Main Dish - Fish
(11)

Main Dish - Poultry
(14)

Main Dish - Vegetarian and Vegan
(9)

Salads - Dressing
(8)

Salads - Fruit
(4)

Salads - Grains & Legumes
(7)

Salads - Green
(1)

Salads - Pasta and Rice
(10)

Salads - Potatoes and Eggs
(5)

Salads - Vegetable
(15)

Side Dishes - Kugels and Souffles
(7)

Side Dishes - Potatoes and Vegetables
(17)

Side Dishes - Rice, Grains and Pasta
(7)

Soups, Stews and Cholent
(9)
Special Considerations

Dairy-Free Recipes
(230)

Gluten-Free Recipes
(134)

High Fiber Recipes
(18)

Low-fat Recipes
(11)

Nut-Free Desserts Recipes
(48)

Vegan Recipes
(101)

Vegetarian Recipes
(207)
Holidays

Rosh Hashana Recipes
(23)

Yom Kippur Recipes
(3)

Sukkot Recipes
(26)

Simchat Torah Recipes
(9)

Chanukah Recipes
(20)

Tu B'shevat Recipes
(16)

Purim Recipes
(9)

Passover Recipes
(44)

Lag Ba'omer Recipes
(6)

Shavuot Recipes
(24)

Shabbat Recipes
(34)
Cookbook Library

New Releases

Jewish Classics

Other Favorites
Kitchen Gadgets

Essentials

Small Appliances
Chef Of The Week

Barbara Williamson
Congratulations to our chef of the week.