More About Leah ~ Blog Posts

We are consistently voted "The Best Kosher Caterer" by local JTNews readers. Since my Orthodox conversion 18 years ago, I am dedicated to elevating the expectations consumers have about kosher food. The community has been supportive of my catering service in a way that goes beyond business as usual.
It is my good fortune to be from Seattle, a city renown for its foodies and eclectic social conscience. Within this Jewish community, we have a long-standing Ashkenazi and Separdi blend of food and ritual. I learn from some of the best Jewish mothers in the city ~ young and old! Through the pages of this website and over time, I look forward to expanding my own learning of the foods Jews eat; classic and trendy, vegetarian and vegan, gluten-free and dairy free.....and, all kosher.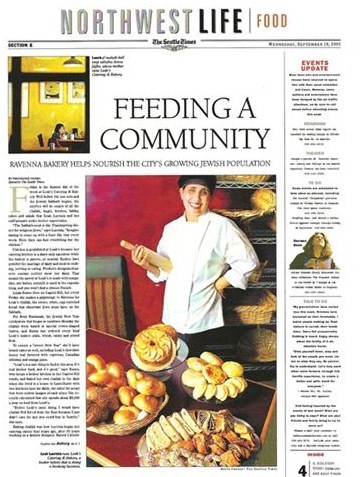 All aspects of Jewish life are expressed with food, both traditional and trendy. Kashrut adds layers of holiness and meaning. Join me in a community of Jewish cooks who are excited to share their regional specialties and global perspectives on food in a Jewish context. Become a Supporting Member ~ its' FREE! Build your profile, share your recipes and feel free to contact me with questions, requests and comments.
May we all be blessed for the love we share through food ~ Leah

Happy Chinese New Year! Happy Super Bowl! Go Hawks!
Posted: February 2, 2014

I have tons of work to do. It is a gloriously sunny day, as opposed to the "cloud glare" of yesterday. That's my daughter's term for Seattle's bright sunless days....and, Happy Birthday, Rebekah! And, Happy Groundhog's Day....no wonder it feels like a national holiday here in the city. So much to celebrate. Happy Rosh Chodesh Adar!

Of course, the biggest to do in Seattle is over the Super Bowl game. Even people like me, who aren't avid fans, are nervous and doing whacky things like getting manicures with blue and green polish. Possibly the die-hard fans are resentful of the newly converted. Get over it!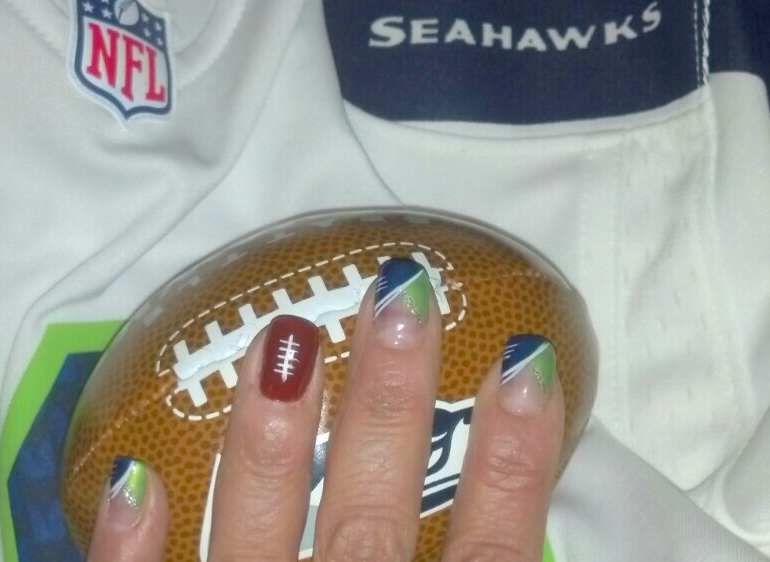 This is my sister Teri's hand.

» READ MORE

Permalink

Comments (0)

Send to a Friend

Tradition! Fun with the Seattle International Film Festival
Posted: January 2, 2014

It's a new fiscal new year. Envisioning this week as a major opportunity to tie up the old and organize the new, my ugly chest cold of the past month is resurgent and I become a lump on the couch for 5 days. Detective Sturgis and Dr. Alex Delaware keep me company closing case after case of distasteful homicides compliments of Jonathan Kellerman. The President is on vacation, maybe war and famine is too: news is light. At some point, I'm a multitasking page turner and channel surfer. Tea steams my reading glasses as I watch Johnny Manziel play the field. Please HaShem! Don't turn me into a football fanatic; I really don't have time!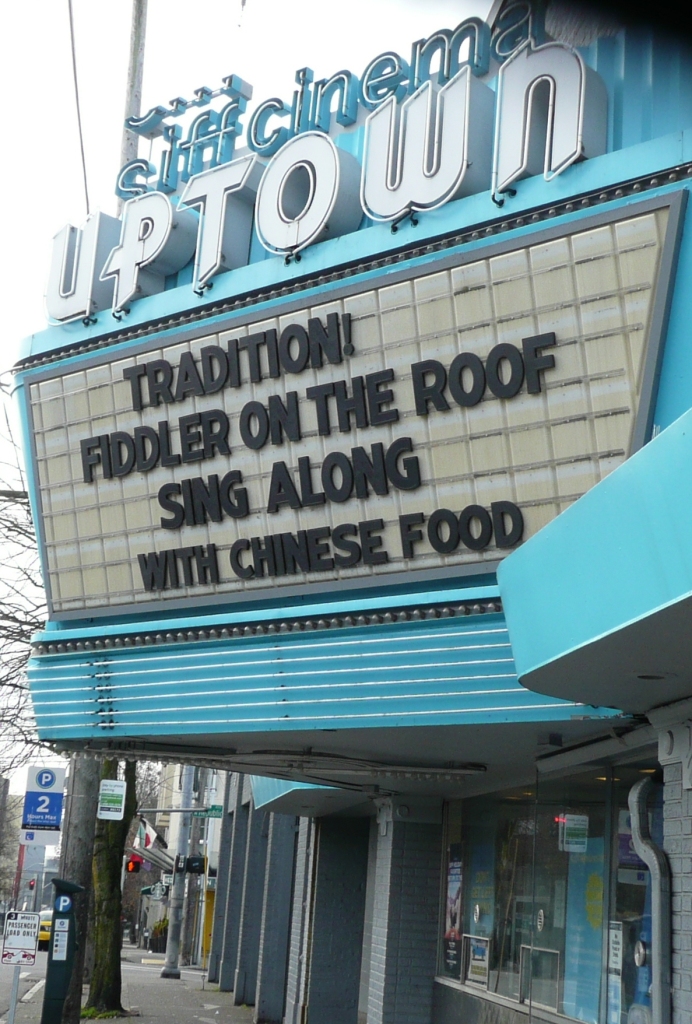 » READ MORE

Permalink

Comments (2)

Send to a Friend

QFC - University Village Kosher Spirits
Posted: January 5, 2013

I usually wander into liquor stores about once a year around Honey Cake season. I'm far too much of a control freak to let alcohol gain a foothold on my psyche. A little of the low alcohol content Bartenura's Moscato d'Asti now and then at shul is nice. But then, that whole designated walker thing is an issue when you live 2 miles away.
One couldn't even buy beer on Sunday between 2:00 am and noon or something crazy like that up until very recently. I find that out when I need beer for beer batter fish and chips. Brother. Feeling humiliated and demeaned as I'm chastized for attempting to purchase alcohol, it is unseemly to get belligerent. It has been said that sleep deprivation has the same affect as a high blood alcohol content. Hard to argue that I look like I do because I cooked all night....and, oh by the way where I go to pray everyone drinks and that was yesterday. Yes, I'm not much fun sober and I don't think it would be any better if I drank.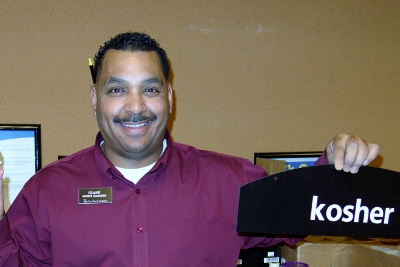 » READ MORE

Permalink

Comments (1)

Send to a Friend

Kosherfest 2012
Posted: November 17, 2012

Kosherfest, an amazing tradeshow of who's who in the kosher food business, proceeds last week in Seacaucus, New Jersey despite the havoc brought on by hurricane Sandy. While areas of New Jersey are demolished, the Meadowlands Exposition Center is surprisingly unscathed.
Having attended Kosherfest in years past, I decide it would be fun to get a booth and join the party. Two years after launching LeahCooksKosher.com, it is time to research kosher products and see what's new. Eager to fill my "kosher products pantry", we upload the winners of the Kosherfest New Products contest. I'll write more about those later; that said ~ my personal favorite is Jack's Gourmet Facon. Sizzling sample, hot off the grill, had me fooled. Yum-yum!

» READ MORE

Permalink

Comments (0)

Send to a Friend

Maximus-Minimus
Posted: May 16, 2012

Catering kosher in Seattle requires a ton of running around in a 12 mile loop. Smaller events need a little of this, a little more of that....all kosher, of course. Large events aren't much different. Food distributers don't carry much kosher. My shopping list is divided into 5 - 7 stops. Shopping is part of the process and, it takes a trained eye to always check for the hechsher. Benoit is great at all that running around especially when I need to be in the kitchen. Otherwise, my 'half day off' is spent in the van driving here and there in search of not only what I need, but new products.
A very special place in town is Pacific Food Importers. The owner is an older Italian who has been bringing foods from his homeland for decades. PFI is a distributer but I rarely need a truckload of anything. The warehouse, down the street from the retail outlet, is just another quick stop on the loop. The store is most understated fun and has morphed into a second-hand showcase of Italian/Mediterranean specialty foods. Their 30 foot cold case of exotic cheeses is impressive even if off limits.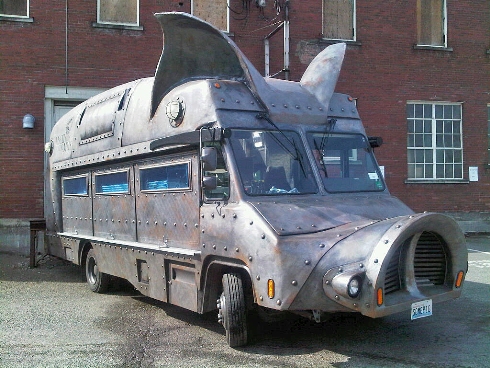 Maximus-Minimus

» READ MORE

Permalink

Comments (0)

Send to a Friend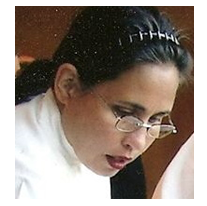 About Leah
Hi! Thank you for stopping by to watch me, Leah, cook kosher. I've been the owner operator of my boutique catering firm in Seattle, Leah's Catering, for the past 14 years.
Read more...
Leah's Blog

Aviva Makes Aliyah and The Sandwich Generation

Happy Chinese New Year! Happy Super Bowl! Go Hawks!

Tradition! Fun with the Seattle International Film Festival

Where Have I Been in My Life???

Making Kosher Salads

Blog Categories
Leah's Kosher Pantry

View what is in the pantry
Recipes

Appetizers
(44)

Appetizers - Dips and Sauces
(11)

Appetizers - Starter Courses
(10)

Beverages - Cold
(1)

Breads - Yeast
(10)

Breakfast Pastries
(7)

Dessert - Frostings
(6)

Desserts - Cakes
(13)

Desserts - Cookies and Brownies
(29)

Desserts - Dairy
(42)

Desserts - Pareve
(71)

Desserts - Pies and Tarts
(14)

Desserts - Tea Breads, Quick Breads
(8)

Desserts and Baked Goods - Gluten Free
(18)

Main Dish - Beef
(7)

Main Dish - Dairy
(3)

Main Dish - Eggs and Fritattas
(6)

Main Dish - Fish
(11)

Main Dish - Poultry
(14)

Main Dish - Vegetarian and Vegan
(9)

Salads - Dressing
(8)

Salads - Fruit
(4)

Salads - Grains & Legumes
(7)

Salads - Green
(1)

Salads - Pasta and Rice
(10)

Salads - Potatoes and Eggs
(5)

Salads - Vegetable
(15)

Side Dishes - Kugels and Souffles
(7)

Side Dishes - Potatoes and Vegetables
(17)

Side Dishes - Rice, Grains and Pasta
(7)

Soups, Stews and Cholent
(9)
Special Considerations

Dairy-Free Recipes
(230)

Gluten-Free Recipes
(134)

High Fiber Recipes
(18)

Low-fat Recipes
(11)

Nut-Free Desserts Recipes
(48)

Vegan Recipes
(101)

Vegetarian Recipes
(207)
Holidays

Rosh Hashana Recipes
(23)

Yom Kippur Recipes
(3)

Sukkot Recipes
(26)

Simchat Torah Recipes
(9)

Chanukah Recipes
(20)

Tu B'shevat Recipes
(16)

Purim Recipes
(9)

Passover Recipes
(44)

Lag Ba'omer Recipes
(6)

Shavuot Recipes
(24)

Shabbat Recipes
(34)
Cookbook Library

New Releases

Jewish Classics

Other Favorites
Kitchen Gadgets

Essentials

Small Appliances
Categories
Latest Posts
Archives
RSS Subscription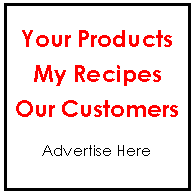 Chef Of The Week

Barbara Williamson
Congratulations to our chef of the week.