More About Leah ~ Blog Posts

We are consistently voted "The Best Kosher Caterer" by local JTNews readers. Since my Orthodox conversion 18 years ago, I am dedicated to elevating the expectations consumers have about kosher food. The community has been supportive of my catering service in a way that goes beyond business as usual.
It is my good fortune to be from Seattle, a city renown for its foodies and eclectic social conscience. Within this Jewish community, we have a long-standing Ashkenazi and Separdi blend of food and ritual. I learn from some of the best Jewish mothers in the city ~ young and old! Through the pages of this website and over time, I look forward to expanding my own learning of the foods Jews eat; classic and trendy, vegetarian and vegan, gluten-free and dairy free.....and, all kosher.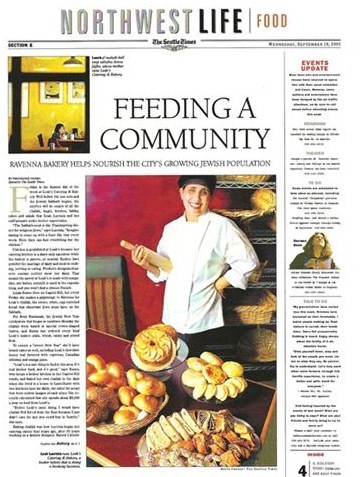 All aspects of Jewish life are expressed with food, both traditional and trendy. Kashrut adds layers of holiness and meaning. Join me in a community of Jewish cooks who are excited to share their regional specialties and global perspectives on food in a Jewish context. Become a Supporting Member ~ its' FREE! Build your profile, share your recipes and feel free to contact me with questions, requests and comments.
May we all be blessed for the love we share through food ~ Leah

Planning an Event Menu
Posted: February 16, 2012

I spend a lot of time in my head. Even when I'm in the kitchen I'm in my head. It isn't exactly meditative, nor is it 'in the moment'. I'm a caterer, everything is time sensitive. What's being made in the moment needs to be done in five minutes. One party is barely a wrap and the next one starts. If I'm not cooking a party I'm planning a party. We live for that moment in time that is coming, not this moment that is flying by too quickly.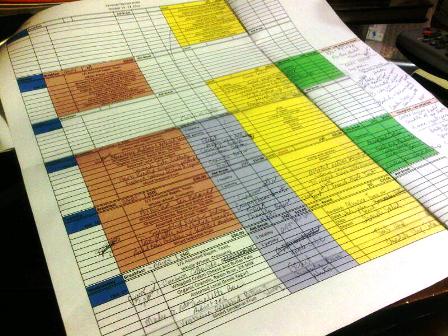 » READ MORE

Permalink

Comments (0)

Send to a Friend

Are you asking me for my Passover order?
Posted: December 1, 2010

It's the first day of Chanukah and I've already been supplied deadlines for Passover orders. I'm waiting for final confirmation that I'll be doing the Passover program at Hillel UW. This year, we have big plans for changing up the menu. I estimate that we'll be doing 1,800 meals between Hillel and private seders.
Can't believe that it is time to outline the meals, develop the menus, project ingredients and place orders, schedule kitchen cleaning, Va'ad mashgiach supervision and production. And, if you've read this, you'll be happy to know that I'm going to devise a handy checklist for home use to countdown to Passover.
Meanwhile, time to bake Chanukah cookies and fry sufganiyot!

» READ MORE

Permalink

Comments (0)

Send to a Friend

Casual Italian Supper
Posted: December 1, 2010

The first night of Chanukah is tonight but I shift my thoughts forward to December 12th. Setting aside work for the mini pre-launch of LeahCooksKosher.com, I focus my attention on the party at hand. A very good client is hosting a casual wedding shower with both men and women in attendance.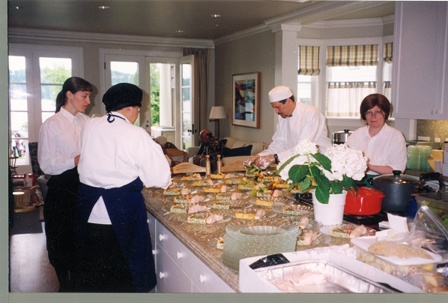 » READ MORE

Permalink

Comments (0)

Send to a Friend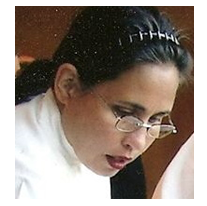 About Leah
Hi! Thank you for stopping by to watch me, Leah, cook kosher. I've been the owner operator of my boutique catering firm in Seattle, Leah's Catering, for the past 14 years.
Read more...
Leah's Blog

Aviva Makes Aliyah and The Sandwich Generation

Happy Chinese New Year! Happy Super Bowl! Go Hawks!

Tradition! Fun with the Seattle International Film Festival

Where Have I Been in My Life???

Making Kosher Salads

Blog Categories
Leah's Kosher Pantry

View what is in the pantry
Recipes

Appetizers
(44)

Appetizers - Dips and Sauces
(11)

Appetizers - Starter Courses
(10)

Beverages - Cold
(1)

Breads - Yeast
(10)

Breakfast Pastries
(7)

Dessert - Frostings
(6)

Desserts - Cakes
(13)

Desserts - Cookies and Brownies
(29)

Desserts - Dairy
(42)

Desserts - Pareve
(71)

Desserts - Pies and Tarts
(14)

Desserts - Tea Breads, Quick Breads
(8)

Desserts and Baked Goods - Gluten Free
(18)

Main Dish - Beef
(7)

Main Dish - Dairy
(3)

Main Dish - Eggs and Fritattas
(6)

Main Dish - Fish
(11)

Main Dish - Poultry
(14)

Main Dish - Vegetarian and Vegan
(9)

Salads - Dressing
(8)

Salads - Fruit
(4)

Salads - Grains & Legumes
(7)

Salads - Green
(1)

Salads - Pasta and Rice
(10)

Salads - Potatoes and Eggs
(5)

Salads - Vegetable
(15)

Side Dishes - Kugels and Souffles
(7)

Side Dishes - Potatoes and Vegetables
(17)

Side Dishes - Rice, Grains and Pasta
(7)

Soups, Stews and Cholent
(9)
Special Considerations

Dairy-Free Recipes
(230)

Gluten-Free Recipes
(134)

High Fiber Recipes
(18)

Low-fat Recipes
(11)

Nut-Free Desserts Recipes
(48)

Vegan Recipes
(101)

Vegetarian Recipes
(207)
Holidays

Rosh Hashana Recipes
(23)

Yom Kippur Recipes
(3)

Sukkot Recipes
(26)

Simchat Torah Recipes
(9)

Chanukah Recipes
(20)

Tu B'shevat Recipes
(16)

Purim Recipes
(9)

Passover Recipes
(44)

Lag Ba'omer Recipes
(6)

Shavuot Recipes
(24)

Shabbat Recipes
(34)
Cookbook Library

New Releases

Jewish Classics

Other Favorites
Kitchen Gadgets

Essentials

Small Appliances
Categories
Latest Posts
Archives
RSS Subscription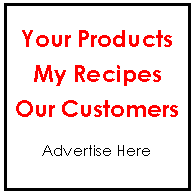 Chef Of The Week

Barbara Williamson
Congratulations to our chef of the week.